SD20 electric screw press
SD20 Electric screw press
1. Accurate control of blow energy, high molding accuracy, small tolerances on parts, and long mold life.
2. Forging process program control, the energy of each working step can be set in advance.
3. High efficiency and energy saving, reducing energy consumption by more than 50% compared with traditional friction press system.
4. The slider is dual-oriented, has strong anti-eccentricity, and can realize multi-die upsetting.
5. The screw and nut are soaked in the oil pool, which is well lubricated and improves the service life.
6, no fixed bottom dead point, no stuffiness.
7, high reliability, in the absence of power phase, the motor stalls the situation does not burn the motor and controller.
8. The table is wide to facilitate mold placement.
9, small starting current, small impact on the power grid.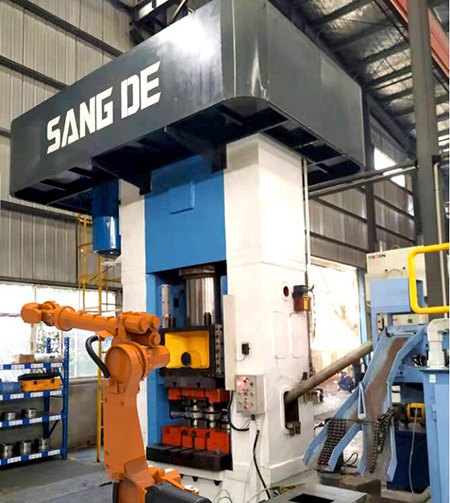 Main technical parameters
Scan the QR code to read on your phone
We could not find any corresponding parameters, please add them to the properties table
Zibo Sangde Machinery Equipment Co., Ltd.
Room 216, Building B, Pioneer Park, High-tech Zone, Zibo City, Shandong Province